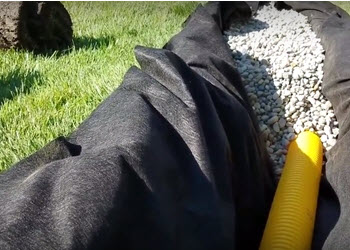 What is a modern day French drain?  Modern day French drain is slightly modified from the French drains that have been built for centuries. French drains that have been built for hundreds and hundreds of years have always been a trench full of stone that moves water. A French drain is the most efficient way to move water.
We have modified them by putting a pipe in them. A perforated pipe that increases the volume of water at which we can move. This is the fastest way to evacuate water from your property and the most efficient way.
Basically, a trench is excavated and all the dirt is removed. None of the dirt goes back in. Then a filter fabric lines the trench.  That is to prevent the stone from migrating into the subsoil and the subsoil from migrating into the stone. You then go ahead and take that filter fabric and fold it over top of the stone so that you can lay the sod back over the French drain. This channel will move water better than any other method.
For More Information on a French Drains Installed in Macomb County, Michigan
When you're looking for a French stream to be built in Macomb County correctly the first time, give us a call at 248-505-3065.