French Drain Install to Storm Drain Catch Basin Macomb County, MI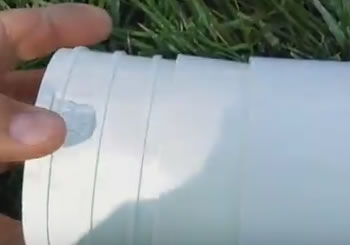 When you run a French drain system to a storm drain catch basin, not all the catch basins are sleeved, you have to core drill the majority of them actually. Here's a picture of a really nice core drilling of the sidewall of a storm drain catch basin. You then have to sleeve it. We use a schedule 40, and we use hydraulic cement to hold that schedule 40 sleeve in place.  We then put this coupling over the schedule 40, and then this adapter. We glue inside that. Then the French drain pipe, the perforated four-inch corrugated that we use, just snaps onto that.
Now, when they're sleeved, they're a funny size. And I'm told a few different things, but I'm going to show yo what works well for us when we're doing our French drain to a storm drain catch basin that's sleeved. We go ahead and we just cut off the end cap.  And when I say just cut it off I'm talking about just the very end. Leave that collar. If you leave that collar you can then take a 6 inch to 4 inch schedule 40 and it fits on really nice. They make a bushing, it slides into that, and then your adapter to take you to your corrugated perforated pipe. Slips right into that bushing.
For More Information on a French Drain to Storm Drain in Macomb County, MI
For a French drain system installed correctly, give us a call 248-505-3065.