When Hiring a Drainage Contractor in Macomb County, Do This!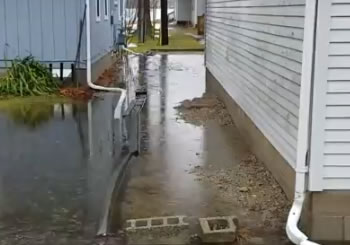 What to do when hiring a contractor to do underground pipe to help you with the drainage problem.
Well, the first thing you do is take pictures. The very first thing you want to do when hiring a contractor to do underground pipe to take care of your water situation is to take pictures.
If it rains all night, you get two to three inches of rain, that is a great opportunity to get up in the morning, take pictures. Yes, we can walk the property. We can take a bunch of topol readings. This is very time-consuming. Water tells the whole story. Take video. A video is even better than pictures.
This is what you do when you are looking to hire a contractor to do underground drainage pipe so that the water, the surface water can be taken underground and drained off.
Here, we have water between two structures. This is a great idea, let's just have all the roof water run right where it collects. I can drain this, this is not a problem for me.
Over 30 years of experience, this doesn't bother me one bit. I'll dry this up as the rains falling. My systems keep up, this will never happen again.
I Need To Hire The Best Drainage / French Drain Contractor in Macomb County!
When looking for a contractor to run underground pipe, install outdoor or sump pump systems and to evacuate the water in your yard, keep your yard dry, protect your property and your health give us a call at 248-505-3065.