Outdoor Sump Pump French Drain Hybrid System Algonac MI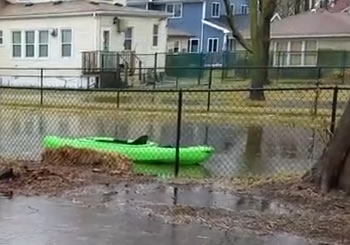 I want to show you a job that I did last year. I wanted to show you how the homeowner is benefitting from the install that we provided them with last year. There's a kayak, I guess they use that to get from the house to the garage. Now we haven't put in a system for that homeowner yet, but I wouldn't doubt if we get a call from.
Okay, last year when I got a call this shed was under water. It was surrounded by water just like the lot that I just showed you. There had to be six, seven, eight inches of water that we walk through as we shot the topols to see how low we were. You can see where the French drain system runs between the houses. I have it on both sides of this home. We ran several hundred feet of a French drain.
Now again, this lot would be under water if not for the system. The grass would have grown on top of my French drain just fine if the homeowner would have been able to water during the drought season. They do not have a sprinkler system. And this happens to be used as a cottage. It's a second home for them. So during the week when it was really hot, the grass over the French drain needed to have some irrigation in order for it to survive over the French drain system.
Here is the outdoor sump pump system. This is the outdoor sump pump basin with cast iron lid for safety. Now we are lifting this water up and out into a waterway.  You can see that the pump works just fine. It's a two-inch pump, two-inch, just charge here. It moves 160 gallons per minute.  They unite, whether you're away, on vacation. Whether you're at your primary residence. This system is taking care of all your concerns as far as protecting your property, preventing mold buildup. In the summertime, this place ends up a mosquito hatchery with standing water.
Help!  I Have Standing Water in My Yard and Need An Outdoor Sump Pump  and French Drain!
For a hybrid system French drain to an outdoor sump pump, give us a call at 248-505-3065.