French Drain Slope in Algonac, Michigan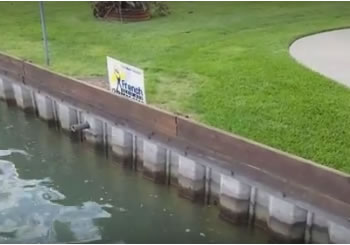 French drain, it's the most efficient way to remove water from a problem area in your yard. A lot of times when you're running French drain, as the trench slopes you end up below the area of discharge whether that's a ditch bottom. In this case, it happens to be the water line in the St. Clair River.
You can see the pipes taken out the sea wall were several feet below the water line of the river. So we built catch basin — the French drain goes into the catch basin that is waterproof so we're not recirculating lake water. And it lifts the water when it rains that collects in the backyard, and it injects it out the pipe you see sticking out of the seawall.
This is a commercial-grade system. That lid weighs 130 pounds. The ring around it weighs 185 pounds. Your lawnmower can run over top of this. Traffic, where there's vehicle traffic, it's just really durable, commercial, built to last.
For More Information on a French Drain in Algonac, MI
For all your yard water solutions, give us a call at 248-505-3065.