Complete French Drain Installation by Professionals Macomb Twp. MI
We're installing a French drain in Macomb Township, Michigan and I just wanted to give you a bird's-eye view of it so that you can understand where we are as you see the video.
We start with putting a plywood road in to get all the dirt out and to bring in all the stone. That way, we're able to install a French drain and leave the homeowner's property as we had found it. Literally, you can't even tell we were there. So this does take a lot of detailed effort by every crew member. Now, there is a core and tap that is hydraulic concrete. You must use hydraulic concrete on both sides, not just one side. I have seen several French drains installed by our competitors in Macomb Twp, Michigan, and they just stuffed drainage fabric in there and they didn't use the hydraulic concrete.
So I definitely want the homeowners of Macomb Township, Michigan to be aware that the guys who are quoting these yard drains are cutting corners everywhere to beat our price. We're already so low in price since we're so efficient at it. We can do three of these a day. So we're able to give you a dynamite price.
But then if somebody cuts that price by just a couple hundred dollars, you're getting half the clay removed and half the stone to replace that clay. You're getting a pipe that's not as good as our yard drain pipe, which is the only pipe made for yard drains. A true French drain for a yard is made out of the High Octane Baughman 8 Slot, and it has 17 and a quarter square inches of inlet per linear foot. That was unheard of until the conception of the High Octane yard drain pipe 14 months ago. It's made by Baughman Tile out of Ohio. Made in America. The quality cannot be beat. It's a fifth generation family ran business.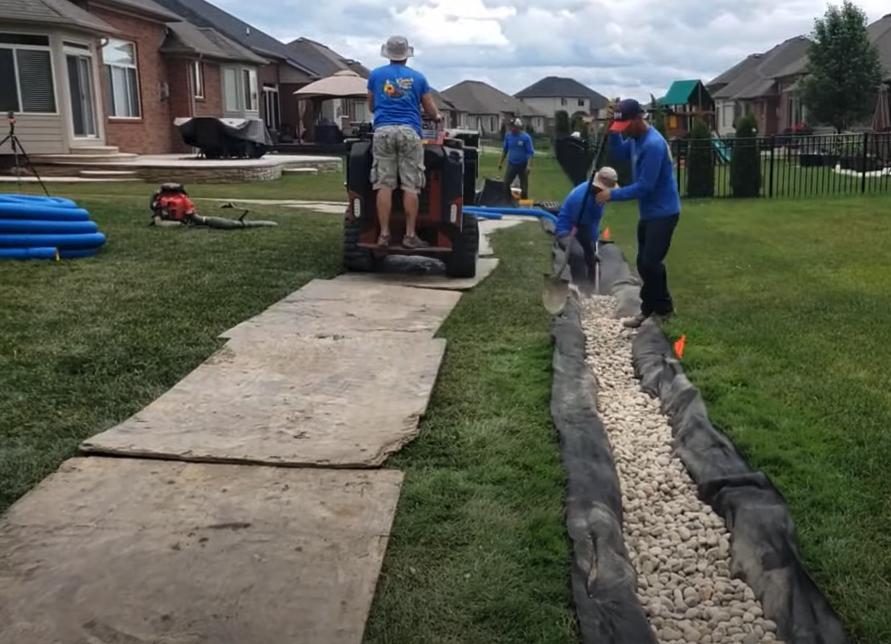 Removing the Clay
So you can see, we did not put any of that clay off to the side to put on top of our yard drain. That's not going to happen. You're supposed to dig out all the clay and you're supposed to remove it from the job. You're not supposed to put it back in.
What Plywood Do We Use?
Now, the contractors that watch this channel, that is three quarter inch, Wolmanized treated plywood. I get asked all the time, "What are you using?" I've tried it all guys. You know that they do make some of those poly mats. They're just crazy expensive. I've always used plywood. One day I think I'll probably go to those poly mats. Right now I just don't want to spend $300 per mat, but the price is going to come down because it's getting more competitive.
We Use the Best Drainage Stone
The stone they're bringing in, that's inch and a half round rock. I don't like crushed stone because crushed stone has fines in it. And those fines get stuck in the perforations of your yard drain pipe. So I like round rock. Now, sometimes you get cracked cobble in your round rock, and you will have to use a sock on your High Octane.  I had really clean round rock for this install so no cracked cobble.
So we just used the naked version of the High Octane Royal Blue yard drain pipe. And you can just see that inch and a half round rock. See how large that is? The pea stone doesn't flow water and the pea stones dirt cheap. Just to put things in perspective, when they screened down cobble, what's left at the end is pea stone. The only place pea stone really looks good is in exposed aggregate concrete. And it definitely doesn't make a good French drain.
Installing Geo Filter Fabric
Notice how he's cutting the fabric to fit. That's another thing, it's so important. He's cutting that fabric to fit so we don't have an overlap. If you overlap fabric, you're not going to get it to take in any water. We have all these holes punched. That's so that we up the flow rating, but you can never get those holes to line up if you overlap fabric. So keep all these things in mind.
When there's low oxygen in the soil, the blue grasses in the North that we love so much, they die out. And then this wide bladed grass and is bright green looking grass that's very undesirable here in the North that thrives in those conditions.
So the homeowner didn't want the sod put back at all. He wanted us to even cut some more out because he was going to go to the sod farm and get some nice blue grass now that he's got this French drain in place. Now notice all the fabrics that's taking time, to cut that fabric and get that perfect. That's so that we can keep that flow rating.
Now, this is four ounce filter fabric and it not only is a soil separator, so it separates the clay from getting into the stone and the stone migrating into the clay. This is going to preserve this system and it's going to keep those voids in between the stone so they don't fill with clay. The four ounce fabric, one square foot of it will move 140 gallons of water per minute. I've seen cheaper fabrics bought on Amazon, bought at Home Depot. They biodegrade. You can hold them up and look through them. They're cheap but if you plan on living in that house for awhile, you really don't want to go cheap on your fabric. That's not an area you want to go cheap on.
Need Professional French Drain Installation in Macomb Twp, MI?
When looking for a contractor in Macomb Twp, to install French drains, yard drains, sump pump systems to evacuate the water in your yard, protect your property and your health give French Drain Man a call at 248-505-3065.