Macomb Township French Drain System to Control Roof Run Off Water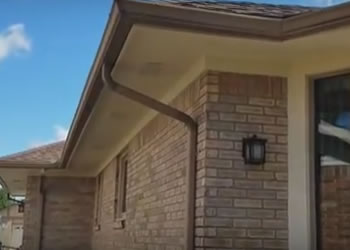 In Macomb Township Michigan, installing a French drain system. I wanted to talk about why its so soft and hard to mow in between the houses. The clay pan that we have in Macomb Township doesn't let the water dissipate.  Basically, it's always very soft. why is it always very soft between the houses.
Well, here's why, look at the gutter run right there, that trough, look how far that trough runs before the next down spout.  So there's thousands of gallons of water that come out of this down spout.
Now this is on both of the homes. We're on a clay pan, so this water's not going to dissipate in the subsoil. It's pitched, but it doesn't have a lot of pitch. Good bluegrass, real heavy, nice thick turf, it'll prevent the water from running even on a slight slope. So what we're doing is we're picking up all this water. Because this is where the area just got so soft, and it was just difficult for the homeowner to maintain.
Now, they have some privacy. So we went behind the arborvitaes here, the evergreen trees. This is going to be a maintenance-free french drain system, as all of our systems are. We're going to wrap this full of filter fabric and put the grass back on top.
There's the storm drain.  We tapped the storm drain basin.  It's on the neighbors property and they gave us the ok to come on their property and do this.
Macomb Township French Drain System Installation Experts
For a French drain system done right the first time in Macomb Township, Michigan, give us a call at 248-505-3065.