Macomb Township French Drain System Around an Elevated Patio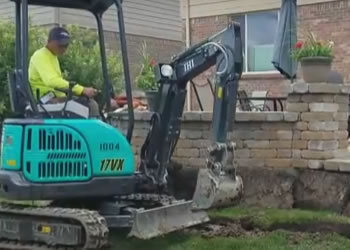 We're in Macomb Township installing in a French drain system around an elevated patio. Elevated patios have… Well, it depends on the installer what they have for base material. A lot of base materials for lift, they will hold water. So every time it rains they end up sponging up all that water and then they just slowly drain for days and days.
Around this patio it's always wet, always. And the Macomb Township homeowner's just had enough. They've been here for years and, ever since they put this patio in they've been dealing with the situation.  So, we're going around the elevated patio with a French drain system.
Right now you can see the excavator is removing the clay. Here in Macomb Township, we have a clay pan that we're dealing with.
We`re going to line this trench. You can see, it`s a nice 19 inches deep, 17 inches wide. And we`re going to fill it full of coarse washed rock. It`s going to move that water right to the storm drain, which is in the corner of the yard. We're going to tap in, it's already sleeved, and get rid of the water.
Macomb Township French Drain System Experts – The French Drain Man
For a French drain system done right the first time, give us a call at 248-505-3065.