How to Build a French Drain That Lasts in Macomb Township, Michigan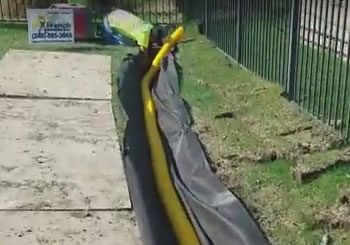 We're installing a French drain system in Macomb Twp, Michigan. All this clay came out of a channel that we created, and we're hauling it off site. None of it's going back in that channel. We're replacing it with coarse washed rock. No sand. It's not gravel. Gravel has sand in it. This is a coarse wash rock.
We plywood across the yard so we don't hurt a blade of grass. When we leave, you can't even tell we were here.
We line the entire channel With the filter fabric. And we use a pipe that has a lot of inlet; we move a lot of water.
Over at the storm drain catch basin we core through the sidewall of the storm drain catch basin. This is how you get your water out of a backyard in the Comb of Township Michigan.
For a French drain system built to last, give us a call at 248-505-3065 or request a FREE quote for a French drain installation.