French Drain in Yard in Macomb Township, MI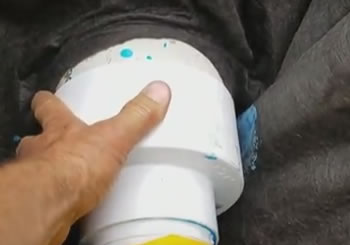 French drains in yard. If you have a storm drain catch basin on your property or it's just on the other side of your property line it's in your neighbors yard, if it's in Macomb Township they usually have a sleeved catch basin. That's where I've seen the majority of them.  Because of the clay pan in Macomb Township, French drains are so needed.
Here is a connection to a storm drain catch basin. This is a French drain in the yard. We got a coupling.  This coupling hooks up to the sleeve.  Now this is a really funny size. It really is. It appears to be six inch schedule 40 and it's not. And there's only one manufacturer that makes it, and it's a real hard one to figure out how they ended up going with this size. But anyways, There is only one company that make this coupling. So its a six to four and then we go to our adapter that we snapped on the French drain pipe to. This is how we connect a French drain in yard to a storm drain catch basin.
For More Information on a French Drain in Your Yard in Macomb Twp., MI
For a French drain system done right in Macomb Township, Michigan, give us a call at 248-505-3065