Oakland Township MI French Drains Between Elevated Landscape Beds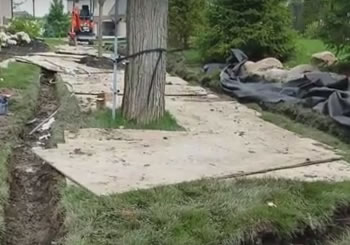 We're installing a French drain system in Oakland Township, Michigan. The French drain channel that you see here is the main. This is the discharge location where all the water is going to be evacuated.
We have two French drain channels that lie together. We have two elevated beds, one on each side contributing towards this yard water problem, making it impossible for them to mow. On a clay pan with really nice bluegrass, thick turf, You need a lot of slope for water to find its way out. We have some slope here but it's just not enough. So, the French drains stone channel is exactly what they need to firm this up to where they can mow it, maintain it and use the space.
You can see that the French drain channels are tight to the retaining walls. And all the water that's running away from the home, downspouts included, end up in this swaled area. The French drain is going to pick up all that water and evacuate it as well.
For More Information on a French Drain System in Oakland Twp., MI
For French drain system in Oakland Township, Michigan give us a call at 248-505-3065.