How To Build French Drain Trench Liner Around A Large Tree in Oakland Twp, MI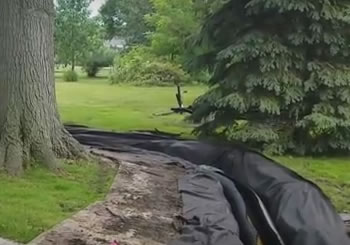 How to install a trench liner when going around a large tree while building a french drain.  We have a large tree that keeps lifting the ground, over time the elevations change. We want to over-dig. You want to over-dig, because that buys the system time. As this tree lifts the ground and raises this area of the French drain, if you over-dig it, in this case we over dug by six inches. That's going to buy the homeowner a couple of decades.
We used a liner, a trench liner.  We're concerned about all the routes, plugging the system. It doesn't plug the system as much as it chokes it off.  A trench liner is gonna protect against the root system. We're then going to fill the trench liner with coarse washed rock and pour it over the French drain pipe and then wrap the fabric over the top of that, and put the grass back. That's how you install a French drain trench. Liner around a large tree.
For More Information on a French Drain System in Oakland Township, MI
For a French drain system installed right the first time in Oakland Township, Michigan, give us a call 248-505-3065.