Oakland Township MI French Drain System Along Property Line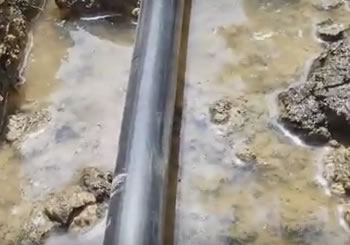 We are in Oakland Township, Michigan installing a French Drain System. French drains are to alleviate yard water problems due to circumstances that exist. French drains do not change the circumstances which cause yard drainage problems. They are to help alleviate the conditions.
The neighbor, on the left hand side, his lot is much higher, than the lot in which we're contracted to put in this french drain. We're putting this french drain in right along the property line. We have water shedding away from the home, in the yard, in which I stand. And all the water from their neighbor's back yard, they're taking on all that water as well. They can't even mow this yard, they haven't been able to use their mower.  They've just been weed whipping this area for, well months now.
They contacted me, reached out to me, said we need a French drain system. So we excavated a channel. You can just see the amount of water that's coming out of the sub-soil. The pipe you see is the sprinkler pipe. This water has just been bleeding out of this sub-soil and just running down the trench. That's how saturated the sub soils were.
This French drain channel's going to help alleviate that water. It's going to firm up the ground to where they walk on it, mow it, and use that portion of the yard.
We have the discharge going to a water reservoir. Where we'll but stone at the end of a pipe and cover it so that animals can't crawl up into the French drain pipe and claim it as their home.
For More Information on a French Drain System in Oakland Twp., MI
For a french drain system in Oakland Township Michigan, give us a call at 248-505-3065.