Oxford, Michigan French Drain Field System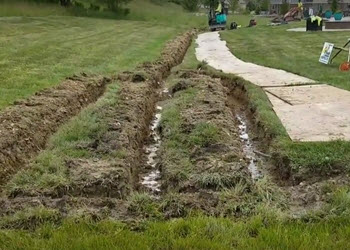 We're in beautiful Oxford, Michigan installing a French drain system. I see this a lot we have a development where there's a ridge. In this case, there's a golf course up at the top of the ridge, water runs off the golf course.
This swale there's several properties that drain through this swale back here and it terminates at a storm drain. When they engineered this development on paper, the numbers do add up. It should drain, there's plenty of fall. It's just hard to get water through turf grass.
They can never mow in this area, so we're putting a french drain field yo catch all the water and to move it more efficiently so that it doesn't hang around saturate the soils. Get it right to the storm drain.
On the property line, we went ahead and put in a perimeter french drain. This stone channel's gonna catch all the water.
We mathematically figured out the area, how much water we were trying to control.
We have three, French drain stone channels. This fields gonna catch all the water.
There's plenty of fall, we don't even have to core the storm drain. We're gonna put our basin next to the storm drain basin. We're gonna move the water efficiently, we're gonna evacuate the water immediately and it won't have time to hang around saturate the subsoils.
For More Information on a French Drain System in Oxford, Michigan
When you're looking to have a French drain in Oxford, MI built right the first time, give us a call at 248-505-3065.