Oakland Twp Yard Drainage Contractor Makes Buried Downspouts Easy for DIYer
For over 35 years as an Oakland Twp. yard drainage contractor, we have been helping Michigan homeowners with their yard-dewatering.  Now we're making things easier for young contractors and eager DIYers by offering buried downspouts that can be shipped throughout the country small package which eliminates freight costs.
We still provide our full service installation of French Drains, yard drains, sump systems and roof runoff systems in Oakland Twp, and other local Michigan areas. But for the homeowner looking to tackle a project on their own, these kits provide everything needed for burying downspouts and removing yard water.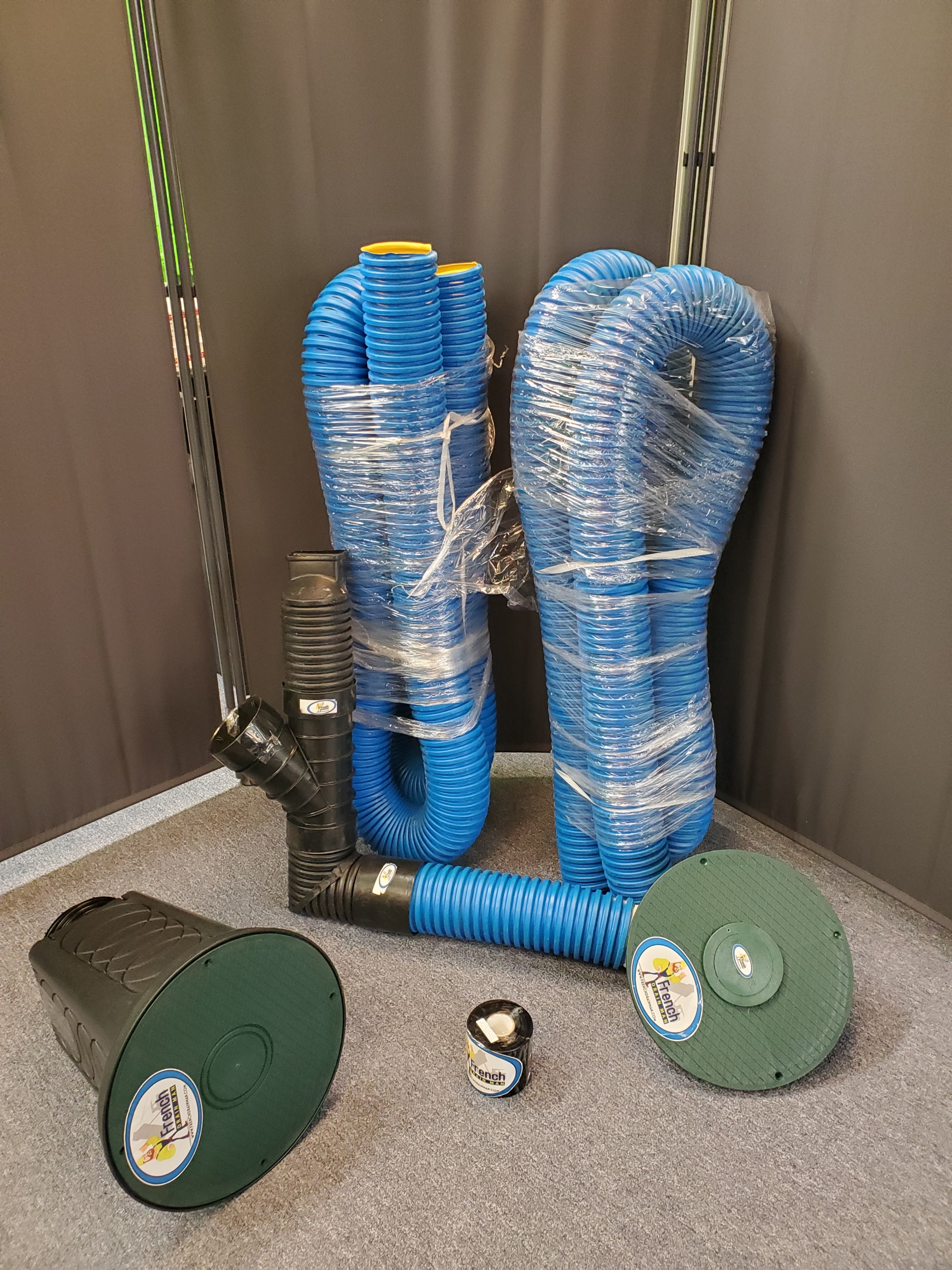 We offer several DIY drainage kits depending on what you're trying to accomplish in your yard. Here's some information on what's included in our Buried Downspout Complete Kit
Buried Downspout Complete Kit
15 ft Coil of 4 inch Solid High Octane™ ($90.00)
15 ft Coil of 4 inch Knife Cut High Octane™ ($90.00)
12 inch round D-Box/Distribution Box ($71.50)
Cleanout Kit to include Downspout adapter, 4″ Dualwall culvert pipe connection, 90° Dualwall 4 inch custom welded, 4 inch grate ($40.00)
4 inch external snap coupler ($3.95)
FDM 200 year tape ($18.75)
Pop up emitter ($15.80)
12 inch Round Turf Restrictor Plate ($25.00)
1 FDM Corrugated Pipe Adapter AKA Cone ($6.50)
There will be an option to go with a 2x3x4 or a 3x4x4 gutter adapter. Those are the two sizes so be sure you get the right gutter adapter. Other than that, this is going to be super easy.
You have your solid High Octane™ drainage pipe that takes water away from the house, then you connect that to your D-Box (Distribution Box). Then you go ahead with your knife-cut High Octane that connects to the pop-up emitter with the turf restrictor plate. All of this is in a kit making it easy for the DIYer. Whether you're local in Oakland Twp or live thousands of miles away, French Drain Man has you covered.
Need an Oakland Twp Yard Drainage Contractor for Installation?
If you live in Northern Oakland County and prefer to leave the installation to us, the French Drain Man Crew will provide full service yard drainage solutions and we are still scheduling projects for the 2021 season. Contact our office today by calling: 248-505-3065.
French Drain Man / Sherwood Landscape Construction, LLC
P.O. Box 777
Almont, MI 48003
248-505-3065
https://www.frenchdrainman.com
http://www.macombcountylandscaping.com
Follow us on:
YouTube.com:  https://www.youtube.com/c/frenchdrainman/
Facebook: https://www.facebook.com/frenchdrainmanusa/
Instagram: https://www.instagram.com/frenchdrainman