Drain Tile vs a French Drain in a Residential Yard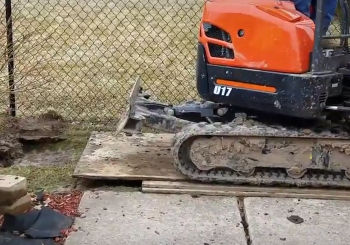 nce in a while, I get asked why does a farm field work, that's tiled? Why wouldn't that work in a residential backyard? So I'm going to explain that to you really quick.
Compaction of soil Is one thing, the farmer tills the top surface of his farm field regularly, a couple of times a year. We don't do that to our yards with our landscape and our turf grass. The other thing is, the farmer is not trying to grow a crop in the soil like this.
This here is real elastic clay. That's all it is. And we lay our sod over top of it, and it doesn't matter if you add a couple of inches of topsoil to improve the turf, if you're a buff when it comes to Have the greenest lawn on the block. You are still going to have that clay pan that the water cannot penetrate to get to a drain tile.  So that's why we have to put in French drains.
A French drain is a channel full of stone the water goes right through the side, into the French drain.
For a French drain system installed in Macomb County, give us a call at 248-505-3065.