Bruce Twp, MI French Drain System to Manage Yard Water on Clay Subsoil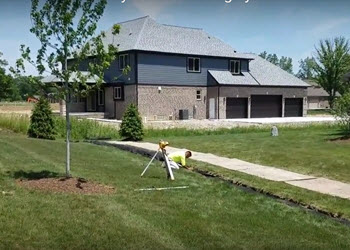 We're in Bruce Township Michigan installing a French drain system. The lake that you see here, the water line is four feet higher than down in the swale on this side of the berm. The berm is made of clay, perfect example of how heavy soil holds water.
Now, this swale from one end to the other is 19 inches of fall. We're putting in a french drain stone channel to help move the water more efficiently and evacuate it off the property. Water was basically saturating this side of the lot.
We do have 19 inches of fall.  As you can see the French drain stone channel. We're folding the fabric over top of that now.
This was a hydro seeded lot, so we're going to put some top soil over that fabric and put seed and straw on it and start watering, irrigating it and we should have some grass in a few weeks.
At the end of the French drain stone channel, we have a 12 by 12 probasin. That's at grade and then the swale continues over to a marsh area.
For More Information on a French Drain in Bruce Township, MI
When you're looking to have French drain in Bruce Twp., MI built right the first time, give us a call at 248-505-3065.