Install a French Drain First With a New Home in Oakland Township, Michigan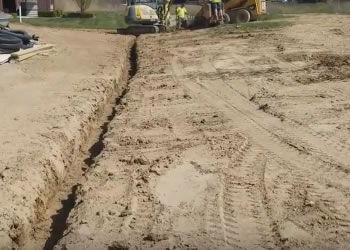 We're installing a French drain system in Oakland Township, Michigan. The homeowner noticed after they moved into their new home that water was collecting in the back yard. That they had an issue. They're having that taken care of before sprinklers and sod.
Not only do we not disturb the sprinklers or the sod. What this saves on is labor. Which basically, I was able to give the homeowner a lot better price.
It's more economical to come in here with the bigger equipment, not have to plywood our way in, use smaller equipment, and spend a lot less man hours putting in the French drain system.
We had two feet of fall, which is great. We want to encourage the water to go to the storm drain.
Fore More Information on a French Drain System in Oakland Township, MI
For all your yard water solutions, give us a call at 248-505-3065.
Sherwood Landscape Construction LLC
122 S Rawles St
Romeo, MI 48065
Ph: 248-505-3065
French Drain Man
"Yard Water Solutions"
www.frenchdrainman.com
.