French Drain Discharge to Water Reservoir, Oakland Twp., MI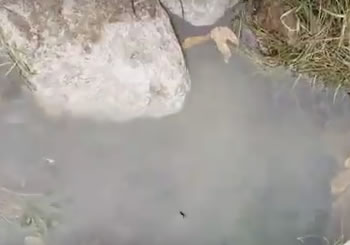 We just finished installing a French drain in Oakland Twp., MI. We ended the pipe and there was a lot of fall here on the pond's edge. We ended the pipe at the bottom of the slope, flush with the grade, and we just have rip rap that the water runs through to get to the water reservoir. It's a pond area.
Now the water is just flowing, it's amazing how much water Is flowing.  This rip rap is three to five inches in diameter but we just have such a steady stream of water flowing through this rip rap. It's a great way to terminate a french drain pipe. So that you don't have to worry about animals getting inside the pipe and plugging it.  And you want the French drain pipe to be at the bottom, flush, as the grade falls away so that the water can just flow freely out of the French drain system.
For More Information on a French Drain Installation in Oakland Twp., MI
For a French drain in Oakland Township, Michigan, give us a call at 248-505-3065.