How to Make a French Drain – Oakland Township, MI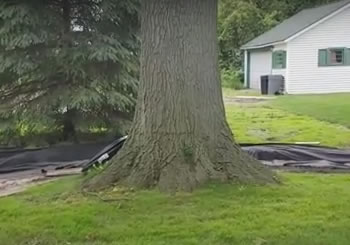 How to make a French drain. There's so many variables to how to make a french drain. I'm just going to go over one right now, and encourage you to go to frenchdrainman.com, to continue to learn about how to make a french drain.
In this case, we had to go by an oak tree that's well over 100 years old. We were worried about the roots plugging the French drain system. So we actually put in a trench liner. We went ahead and cut the top off so that we can fill the liner with of coarse wash rock. We'll then fold the filter fabric over top and lay the side back in place.
We keep the couplers together, we don't cut the pipe at the point to where we make the connection. And then once we clear this big oak tree, we're back to just a trench lined with filter fabric.
For More Information on How To Make a French Drain in Oakland Twp., MI
How to make a French drain? For a French drain made correct in Oakland Township, Michigan, give us a call 248-505-3065.