How Much Slope When Installing a Commercial Underground Drainage System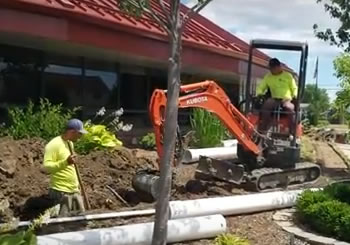 When installing an underground commercial drain system, you always want to maintain a slope of an eighth-inch of fall for every linear foot. So, here we have a gentleman in the trench. He has a reader on a story pole. He's checking depth. He's communicating with the operator, letting them know to go deeper. Sometimes he needs to go a little shallower or because he's getting too deep, too quickly because we don't want to run out of storm drain catch basin. What I mean by that is if you have a long enough run, you might end up underneath the bottom of your storm drain catch basin.
You always want to set up your laser level, your transit to where it's out of the way of the equipment, but it's in a location that the reader can pick up on.
For commercial underground drainage systems to manage roof runoff water, yard water, parking lot water, common area water give us a call at 248-505-3065. Oakland County, Michigan, Macomb County, Michigan.