Commercial Drainage Products Now Available to Michigan Homeowners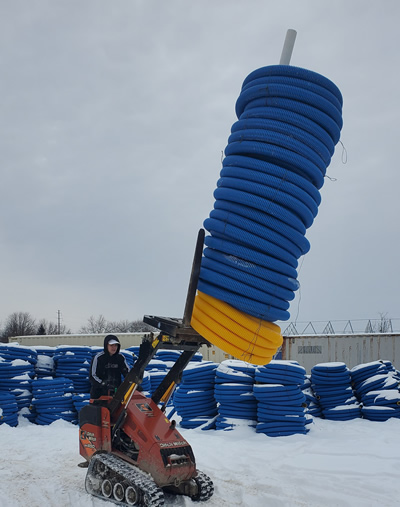 It's hard to believe it's been two years since we started shipping our commercial drainage products all over Michigan and the United States.
It wasn't all that long ago that our videos on Youtube showing what we do to help people with their water problems turned into just hundreds and hundreds of phone calls per day for Baughman Tile. The phone literally rang the phones off the hook to the point where we couldn't perform our daily routine at all. The same happened to Baughman Tile company.
Here we are two years later. A lot has changed we now know the freight business and we now understand how to ship our commercial drainage products.
Homeowners want commercial grade, contractor grade, heavy duty drainage products to take care of their yard water problems to do it right the first time and to never have to be burdened with their water problem again.
We're still here with all of our instructional videos for you on all of our heavy-duty drainage products that we use right here at French Drain Man for our very own installs.
What Homeowners are Saying About Our Commercial Drainage
"I watched several videos on installing a roof runoff system and decided to go ahead and give it a try. I purchased the high octane, d-boxes, and fittings through FDM. So far I've completed 2 phases of a 3 phase project…3rd phase begins spring 2021. Overall, I'm very impressed with the results…everything works as advertised. I found the most difficult part was maintaining a downhill slope but I managed. In closing, the FDM supply lady that answers the phone was extremely friendly and helpful…special thanks to Aaron who answered several questions for me throughout the project…I would have been lost without his guidance."
Jerry T.
"Just tackled a huge drain project on our tree farm in Kentucky. This has been an outstanding company to work with. From the great "instructional videos", to the "what can go wrong" videos, they walked me through the entire process. The quality products they sell are professional grade, and are reasonably priced. Their Customer Service has been outstanding! Thank you for helping make this project attainable, and successful."
Steven T.
Need to Order Commercial Drainage Products in Michigan?
Give French Drain Man a call 248-505-3065 or shop now on our website.
Shop Contractor Grade Drainage Products
Or to have our professional drainage contractors perform the install for you, call us now to get in to the 2021 schedule! Or Spring schedule always fills up fast so call now before you have a water problem on your hands!
Call French Drain Man: 248-505-3065
French Drain Man / Sherwood Landscape Construction, LLC
4015 Van Dyke
Almont, MI 48003
248-505-3065
https://www.frenchdrainman.com
http://www.macombcountylandscaping.com
Follow us on:
YouTube.com:  https://www.youtube.com/c/frenchdrainman/
Facebook: https://www.facebook.com/frenchdrainmanusa/
Instagram: https://www.instagram.com/frenchdrainman