Commercial Underground Drainage System – Macomb and Oakland County, MI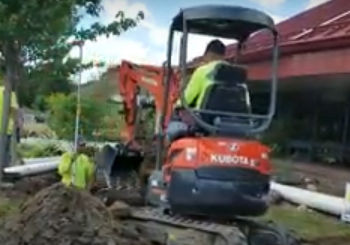 The gentleman in the trench is taking readings with the story pole. He's working with the laser transit to maintain a one eighth inch drop for every linear foot of trench. You can see how we piled the dirt on plywood for easy cleanup.
There is a storm drain catch basin that we're pouring into the sidewall of.  This side is done. We had the dirt piled up on plywood on the sidewalk, and you can see when we get done, all you need is a broom.
Attention to detail when installing underground drainage system is very important. We like to leave a property as we had found it. We come in, we cut the sod off. We installed the system, we put the turf back in place. You can hardly tell that this type of construction actually occurred.
For an underground drainage system, current drains,  French drains, and dry wells give us a call at 248-505-3065.