Commercial Underground Drainage System For Roof Runoff Water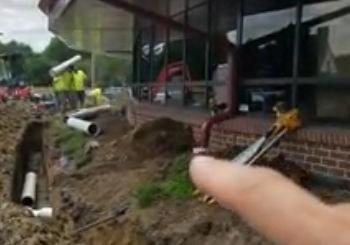 We are installing a commercial underground drainage system for a commercial building. They had a new roof put on and they want to manage the rooftop water. They want to take it underground, take it to a storm drain. We put a bid in for this job. A couple of months ago. We were awarded the job today we're doing the installation of the job.
He had a company engineer and underground drainage system for the rooftop water. They wanted eight-inch PVC schedule 40 for the main and they wanted six-inch coming off the downspouts. They were very specific in what they wanted. And when you do this commercial work, you stick to the plan.
That is an eight-inch cleanout for the eight-inch main. There's a cleanout on both ends of the system. You can see a piece of the six-inch. It comes off the downspout and it's wide right into the main.
It's really important to always manage your rooftop water on your commercial buildings.   Here in Michigan, anywhere in the north, late fall, winter, early spring, this water would just end up coming off the roof. It'll come down the downspout, it'll go across the sidewalk, into the parking lot, and then just freeze. End up being a real huge liability. End Up with a lot, a lot of injuries. So, this system is, is badly needed. You can't go without in the north.
We're putting together the eight-inch main right now. We already cored about four feet down and once we get to the storm drain catch basin, that's always going to maintain a temperature of 45 degrees in the wintertime. The heat's going to be coming up and it'll prevent the system from every building up ice inside, which is great.
For commercial underground drainage systems for roof runoff water give us a call at 248-505-3065. We serve as Macomb County, Oakland County, Lapeer County, Michigan, and St Clair County, Michigan.