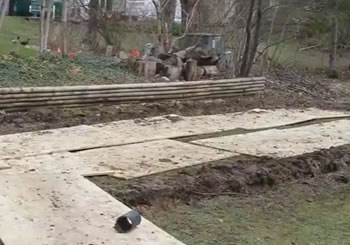 I just wanted to talk a little bit about a laser transit. How we use it and how important it is when putting in a French drain in Rochester, Michigan.
Basically what a laser transit does is it let's you shoot elevations of a property. That way you know how deep your trench has to be to drain that water from that problem area out to the storm drain. It could be a ditch, it could be a water way. Wherever the discharge area is.
Now here we have already dug a couple of trenches. And the water's been running out of the sub soil. It's been working really, really well. The slope is perfect. Matter of fact, we have collected probably about five inches of water, maybe six.
We left a dirt dam here because it just got to the point to where the water was coming out of the sub soil at a rate to where it was making it really, really hard to remove the dirt.
This is, in many, many cases, done by hand. We don't use a trencher. We can't get the width with a trencher. Like six, eight inches, tops. You know, our French drains are always 14 inches.
This is going to be the main. It's going to take the water out to the street.
For a French drain that lasts for years, give us a call.
For More Information on a French Drain System in Rochester, Michigan
Sherwood Landscape Construction LLC
122 S Rawles St
Romeo, MI 48065
Ph: 248-505-3065
French Drain Man
"Yard Water Solutions"
www.frenchdrainman.com