Experienced Rochester Hills Michigan Drainage Contractors
French Drain Man is a licensed building company that offers full service drainage to the residents of Rochester Hills, Michigan. Whether it's burying your downspouts and building you a roof run-off system, a yard drain system, a French drain system, a sump pump discharge line, repair and replacement of sewer lines. We are full service.
For a professional drainage company who knows how to do safe excavation with skilled machine operators and commercial drainage products, give us a call. We lay down plywood so we don't harm your property. We replace all sprinkler lines and turf grass that is damaged. We reassemble your landscape, rebuild your sprinkler system, and we go ahead and put your turf grass back the way we found it. Call 248-505-3065 today.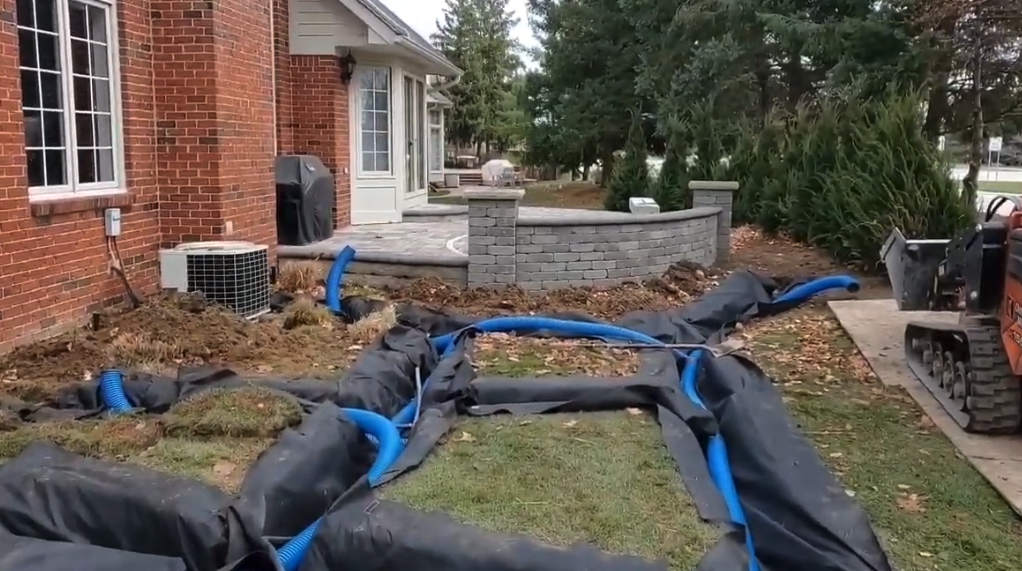 Check out one of our installs: French Drain Winter Installation in Rochester Hills, Michigan
Just Ask Michigan Homeowners!
"If you are faced with water drainage concerns, look no further than the French Drain Man to solve your problems. One phone call was all it took! The response time in contacting us, examining our concerns and proposing a solution was prompt and expertly explained. Along with the drain install, we had them create a dry creek bed over the drain, to replace the sod and provide a nice focal point in our yard. The installers were all very professional and respectful of our home and that of our neighbors. Truly one of the best experiences we have had with contractors. Thanks to all the people at the French Drain Man, both office and crew members. We couldn't be more pleased with our final project."
Michelle J.
"When we bought our home it didn't take long to realize we had a bad water drainage issue. We called French Drain Man and they came out (on a Sunday, as a courtesy to our work schedule) to quote the job. I was more than pleased with the time frame and result of the work performed… and we no longer have a water issue! These guys are definitely pro's, highly recommend!"
Kathleen P.
"Great to deal with. Came to my house and ran into more problems than we had thought but told me he was gonna take care of my water problem and that's what he did! Recommended to anyone who needs good quality work done by an honest man, hard to find anymore."
Jacob L.
Does Your Rochester Hills Home Need Professional Drainage?
French Drain Man / Sherwood Landscape Construction, LLC
4015 Van Dyke
Almont, MI 48003
248-505-3065
https://www.frenchdrainman.com
http://www.macombcountylandscaping.com
Follow us on:
YouTube.com:  https://www.youtube.com/c/frenchdrainman/
Facebook: https://www.facebook.com/frenchdrainmanusa/
Instagram: https://www.instagram.com/frenchdrainman