French Drain Winter Installation in Rochester Hills, Michigan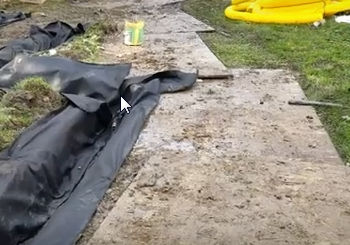 As winter moves in, it's making it more and more challenging to get the French drains in. We received some snow and the temperatures came up, melted it off. Which just makes it even worse as far as the mess goes, but it does prolong the freeze. Once we get enough frost in the ground, there's no way to excavate a French Drain System. We will get frost 2-3 feet deep depending on the winter we have.
We put the plywood down, that way you can distribute the weight of the machines. Be as the least invasive to an installation as possible.
Once we get all the pipe in and all the stone on top of the pipe, we will then piece together the sod and anything that is not 100 percent we go ahead and just take straw and seed.  And, the straw holds a seed until spring where the grass will mend itself through May and you won't even be able to tell we were here.
If you're looking for this service in Rochester Hills, Michigan, give us a call at 248-505-3065.