French Drains in Washington Township, Michigan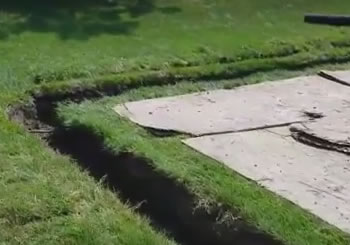 French drains. There's different names for French drains, but they're made and constructed the same way. The materials are the same. There's a curtain drain. It basically wraps around the perimeter of the house. This happens to be a perimeter drain. That's a French drain.
So, your looking at three sides of this yard is basically excavated. The heavy soil has been dug out and removed. We then put filter fabric in the French drains, to keep coarse washed rocks separated from the subsoils. And we put a four inch pipe in the majority of our French drains. French drains that moving more water will sometimes require two pipes or go up to say 6 inch pipe for example.
Why a perimeter drain here? We have a hill, a common area and the water runs down into the yard. Well, this perimeter drain is gonna catch all that. We have a similar problem on the other side of the yard. The neighbor's water all runs into the homeowner's yard who has contracted us to install this French drain system. This perimeter French drain We'll catch all the water that's running out of the neighbor's yard that was once going into this yard and it will catch all the water that has been running off the common area, off that big berm and flooding out the backyard.
I Want a Quote for a French Drain System in Washington Township!
For French drains / Perimeter French Drains installed in Washington Township Michigan, give us a call 248-505-3065.