Footer Pipe to Dry Well in Washington Twp, MI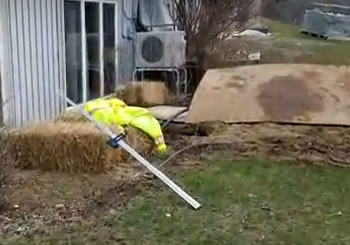 I'm in beautiful Washington Township, Michigan. Beautiful lot. It's an older home but it's been kept up. It's in fabulous shape.
There's a footer pipe. And there's never been a sump pit. Because the water just runs in the sandy soil. The water just drains down into this big, beautiful lot, and there's a pond at the end of the lot.
I've been seeing this a lot the last few years. There's been a lot of building in the area. Whether there's a house next door, or a road put in, this really changes the direction that a natural springs travel.
They just refinished their basement before winter and then this happened at the beginning of winter. All of a sudden a lot of water started just coming out of nowhere. This was a spring. This is a spring that water that's under pressure in the earth finds the path of least resistance. Something happened in this area that changed that and now the spring runs near the house, under the house. This is a slow day. We're going through a bit of a drought period. There hasn't been much for precipitation. So, this really will pick up during the rainy season.
There's been a temporary hole dug with a sump put in it, just to get them through winter. What we're going do is, we're going to tie into that and we're going to build our typical system that you see in all our videos, a nice channel full of stone wrapped and we're going to take it out there where we've got about 3 foot of fall from that footer pipe. And I am not a big fan of dry well because of my area, it's clay. But this is really nice, sandy soil. So we're going to dig a really big dry well. I think most of the water is going to get lost just in the path of travel to the dry well.
But in the event, there's still some water that makes it that far we'll have a nice Big dry wall full of gravel.
For all your yard water needs, give us a call at 248-505-3065.