Installation of New Sump Pump Discharge Line in Washington Twp.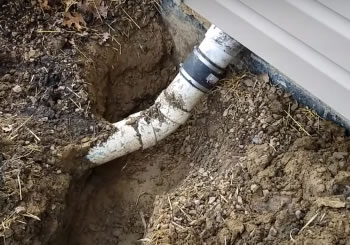 We are in Washington Township, Michigan installing a new sump pump discharge line.
We laid plywood all the way to the back so that it spreads the weight of our machine and we don't damage the turf. We also have plywood down to put the dirt on top of it makes clean up so much easier and you can do a really, really clean job.
I know a lot of the plumbing excavation crews just come in with a backhoe and dig the trench and then pile up the dirt and tell the homeowner, leave it like that for six months and let it settle and then have a landscaper come and sod it or seed it for you. We take a sod cutter and we cut the side off and then we lay it in order. It goes together like a puzzle. So we give the client a fit and finish the look.
Right now the frost laws are on and we can't haul the stone and the clay that you see in our French drains. So we've been just strictly on discharge lines. We're basically running on empty, we were just taking the PVC pipe still. Once they left the frost laws, I'll have more on the yard drains for you.
The reason why this failed is it was a two-inch line to daylight and they went over the sewer line. They have a septic field here and there's the septic tank. The septic field is right there.
They ran over the top of that four-inch pipe with a two-inch. Well, that's not even in code here in Michigan. You have to be three-inch and they're starting to spec a lot of new builds in four-inch. Now, my whole career I've been running for, because of the bigger the diameter, the stronger the pipe.
So, here's where the sump pump discharges. We're going to go down and under and we're going to take this, instead of taking it to the woods and to daylight, we're going to take it to a crock.
We have the hole dug for the crock. We'll dig a hole and we'll put a 24-inch diameter by 48-inch deep. We'll have a lot of half-inch holes drilled in it and we'll pack stone around it. And that's going to go here. Before it just terminated in the woods and went to daylight and literally he couldn't even find the end of it. So that tells you how good that worked out for him. So we want to improve on that.
Another thing that we do, and I don't believe I've shown this in any of my videos, these are 20 footers. Why are we using four-inch PVC schedule 40 and a 20-footer? Fewer connections. The better it is, what am I worried about with connections? See these big trees? All the things you see us do on this channel, no matter how hard we work at it, these trees are like there are Kryptonite.
So we're going to do is we're going to use PVC cement. This acts as the coupler and you can see just how deep it is. This is much deeper than when you go to the box stores and you buy PVC schedule 40 it doesn't have a belled end and you have to buy a coupler and they're usually only going to have this much overlap on the pipe. So you get double maybe even a little more. So this is, this is really sweet. This is a nice way to piece the line together. And, when you use the PVC cement, it keeps the tree roots out because all it takes is just a little small route. You know, they started out like a piece of dental floss and they can, they can sniff out water. That's what they want. And it is amazing when you open up a line that tree roots have been able to penetrate because of a bad joint.
See this is going to be in the frost line. There's nothing I can do. If there was infrastructure here and we can get it below the frost, we would, but it's, there isn't, there isn't. It's, it's pointless. It's, let's just take it, let's just take it to the crock.
Now we do base our design on what we do for a sump pump discharge line installation on how often the sump pump runs, the frequency. This one, this gentleman doesn't see very much activity out of his sump pumps so I didn't have to get too crazy with this one. But when the guys get this all back together, This is a just a half day job for us and then we'll move on to another one. But when the guys put it back together, I'll show you how nice it looks.
Okay, the guys finished the sump line. You can see how they did the cleanup, they did a really good job. We have had some cold temperatures and our, our grass is here in the north or just staying dormant. We can't wait to see green up. I can tell you that. But what a difference. This sod, it'll knit together in no time. We're supposed to see some mid 50 degrees in a 10-day forecast and that'll be awesome. So there's the crock. You can just see how clean it is. Always leave the sod just a little high. Just hump it up a little bit because what'll happen is you'll get saddling like a horse saddle. Yeah, that's an industry term. It's saddling where it'll end up being just a little indentation, so you leave it just a little high because there are air pockets. Even though when we went over the top of this back and forth with our rubber tracks to help compact it, they're still going to be some settling.
If you're looking for this service in North Oakland County, Michigan, or North Macomb County, Michigan, give us a call at 248-505-3065.