Buried downspouts can provide homeowners with a powerful, low-maintenance drainage solution. When set up correctly, they move water away from your home's foundation and basement to protect them from damaging moisture. If you're considering DIY underground gutter drainage these tips from a veteran contractor will ensure your roof runoff system is installed correctly.
We Will Cover:
How Far to Run Downspouts from the House
How to Keep Water Out of the Line
Downspout Dos and Don'ts
Looking for a step-by-step tutorial? Check out our detailed walkthrough on How to Bury Downspouts
How Far Should Underground Downspouts be from the House?
We often get a question: "How far do you run your underground downspout system away from the house?" The correct answer is, until you get to a break in the grade. You want the water to be able to drain away from the house. When you have some slope, you'll be able to shed the water away.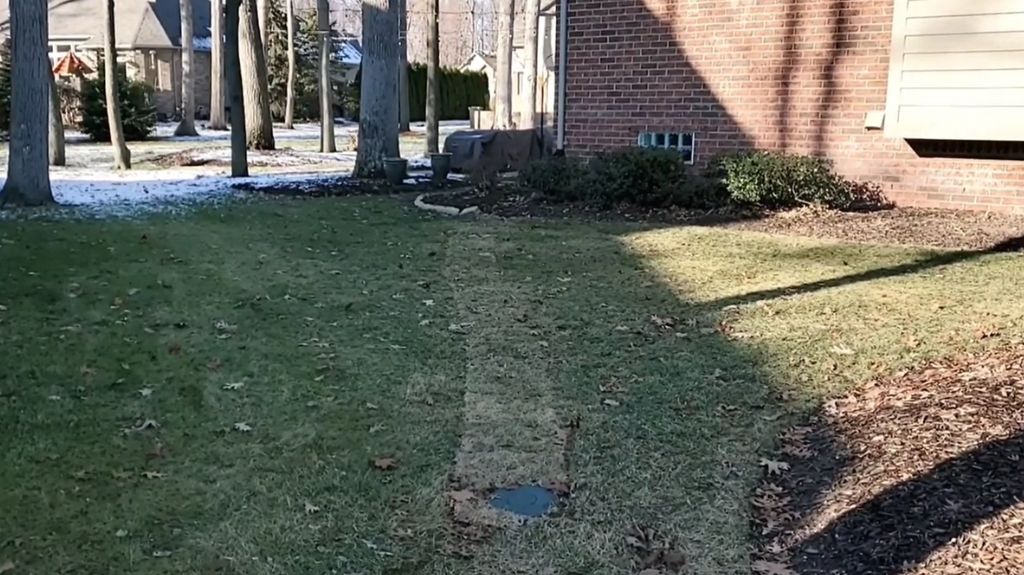 When planning where to run your buried downspouts, take your system as far from the house as you need to reach a drop and create a natural slope. In the example above, we have a really long run. The grade was extremely flat along the house, and we finally got to where the ground had some break to it.
Learn More: How far should you bury downspouts from the house
How to Keep Water Out of the Line
By building your gutter downspout line to leach any excess water into the subsoil, you prevent mosquito breeding and pungent odors. Another advantage is that when winter comes, you won't end with a frozen block of ice at the end of your downspout line. This is extremely important. You want your underground downspouts to be waiting and ready when there's a thaw. If you have a pipe that's frozen up and then snow melting on the rooftop, you will end up with damming. That will build up ice when it freezes later in the evening.
Setting up your system to soak any water left in the line after moving all the bulk weather means that when the weather is warm enough, that water will melt and leach harmlessly into the subsoil.
If you're taking underground downspouts to a popup, you want to set it up to soak away water into the subsoil. To do this, we put a piece of knife-cut pipe with some sock on the end of our downspout drains and build our popup like a mini dry well. Then, we fill that dry well with a pocket of a drainage stone. You can put the native soil right over the top of the knife-cut with the sock. After moving all the bulk water, the water left in the popup can leach into the subsoil because of the drainage fabric underneath it.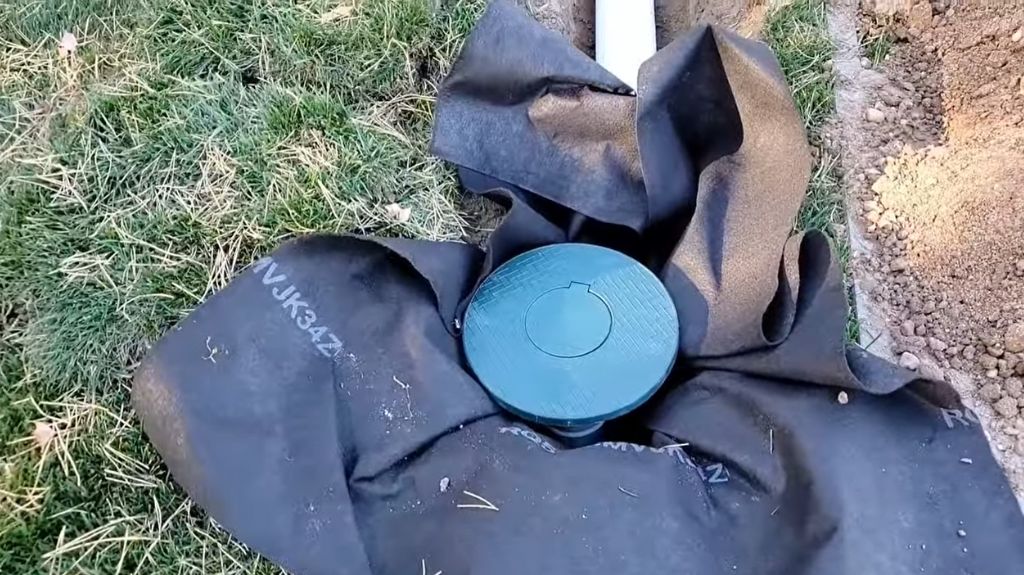 DIY Underground Gutter Drainage Do's and Don'ts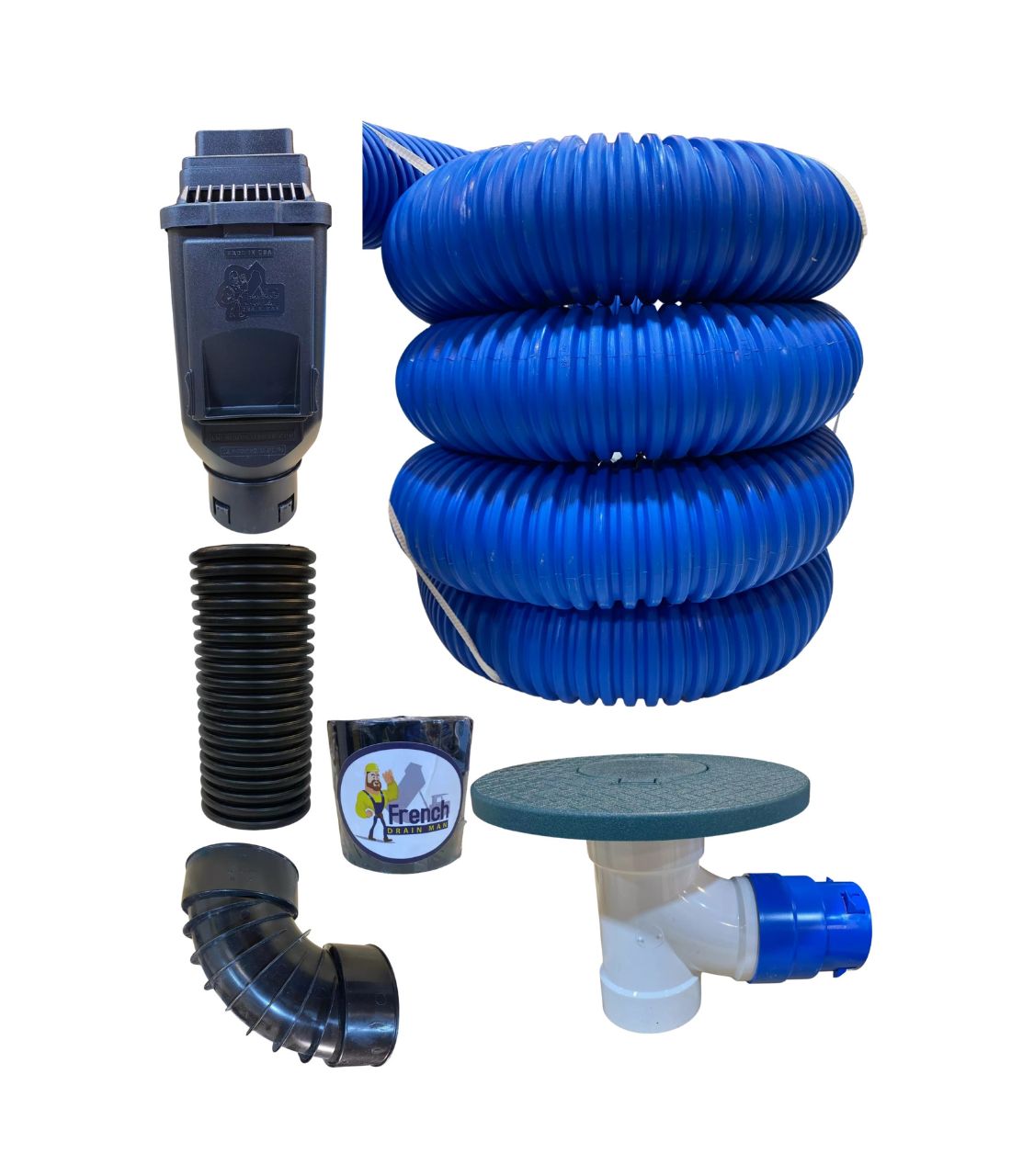 When selecting the best materials for your underground downspouts, it doesn't have to be complicated. Here are some quick tips for success:
Always use a WYE fitting for your system, never T fittings. WYE fittings ensure you're able to set up your lines to follow the flow of the water.
An inline catch basin is a must if you have shingles on your roof. Inline catch basins are a low maintenance option that can prevent your lines from clogging by catching that shingle gravel before it can become an issue.
For easier installation, use 3 in. corrugated pipe where possible. A three-inch pipe takes up less area than a four-inch pipe, making it easier to install. Three inch pipe is also perfect for when you don't have a lot of slope.
Vent the downspout at the house with FDM's New Downspout Cleanout. This makes accessing your line so much easier as you can run a camera or heat cable through the system as needed.
Learn More: 3 in Downspout Pipe Provides More Slope and Higher Velocity
Gutter Drainage Expert, French Drain Man
French Drain Man has been the authority on underground gutter drainage and french drain systems for over 35 years. We've revolutionized the industry by creating robust, low-maintenance solutions, like our downspout leaf filter, pop up emitters, basins, couplers and more! From providing tips to DIYers to professionally installing roof runoff systems to move water, French Drain Man ensures your drainage system will be built to last a lifetime.
For a yard drainage solution that lasts, call French Drain Man at 248-505-3065!