Sump Pump Line Repair and Replacement in Macomb and Oakland County, MI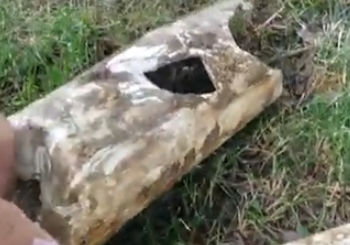 Sump pump line repair.  All the calls we go on for repair, sump pump line, they all turn into a replacement of some pump line. And I'm going to show you why there's some pump line quit working. So the homeowner had to just have a handyman temporarily plumb something to get the water out from behind the house.
They fail because they're done wrong there. The failure of some pump lines 90% of the time or because they were done wrong. So this here is just a thin-walled storm and sewer pipe. It's not what you're supposed to be using for sump pump lines.  You want to use schedule 40, that's a three-inch. I prefer four-inch. You go in and diameter and you increase the strength.
That collapsed because it's a very thin pipe and it doesn't take much for failure. The new pipe is going to be right where you see the sprayed line. We'll bring the excavator back here pretty soon, but I just want to show you what we got so far. So this is what is entailed in a sump pump line repair. Here's the replacement of a failed sump line.
Now you can see all the tree roots. You want to go with a real heavy walled pipe. That's what we prefer. Schedule 40 is to code and then we liked the four-inch is really strong and endures a lot.  Right here we went underneath the electrical. Notice how it looks, just like the tree roots have to really be careful. And then we went underneath the walk and we're putting a pipe underneath the gas line right now.
The thin-walled pipe is more susceptible to collapses. Here's the failure. It wasn't going to be a repair because it was just going to happen again. We're putting in a new sump pump line. This way the homeowner won't be burdened with any failures midwinter flooding of the backyard.
For sump pump line repair and replacement give us a call at 248-505-3065.