How to Use a High Water Alarm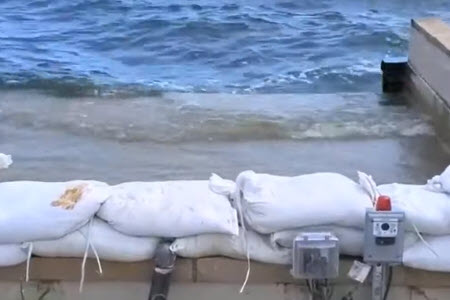 These high water alarms are just great. People can just test it, make sure that it works. When you're on the lake and you're pumping water all the time, it's hard to sleep at night. You worry if that pump goes. So this has a float that goes in and we set it. If the pump quits working, when the pump's float sends a signal to start injecting water into the lake, if it fails, then there's another float and when that switch clicks, it's high, it's a high water level float. You can test it and then if it goes off because the sump pump quit, you'd come over here and you just turn it off. And if you're my client, you call me and we bring a new pump.
That's why I try to do gravity drains in subdivisions and I usually can gravity drain water for folks. These sump pumps, it's not, do they fail? It's, it's a question of when. It's not something that's built to last forever.
So that's a high water alarm. I recommend it to everybody that has a lift station and when you are dealing with high water like we're dealing with right now here in Michigan. I mean this is just crazy. Like that is where they used to have the lawn chairs and they would sun themselves.
The water table here in Michigan, it's on a 30 year high. Actually, some of the levels are record highs. So for a guy like me, there's been a lot of job security, but there's been a lot of people that have lost their homes. But if they call us in time, this is where we've been on the lake most of the year and a lot of people inland or grumbling because they got a spot they can't mow and we can't get there. I put a 911 call ahead of not being able to mow a little patch of grass, you know, it's just the way it is. You have to save people's homes if you can. If hat high water alarm quits working on that lift station right there they can at least give me a call and hopefully I get out here quick to start pumping the water down before it finds its way into their crawlspace and eventually into their home.
All right guys, until next time, let's all work hard to do it right the first time. We're going to keep it simple. You DIYers, stay tuned for more High Octane.