Sherwood Landscape Construction 3D Design for Homeowner in Rochester Hills, MI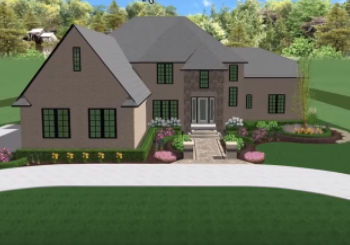 Welcome to the French Drain Man channel. I'm Robert Sherwood, the Founder, and owner of Sherwood Landscape Construction. Sherwood Landscape Construction owns French Drain Man.
I wanted to show you what our construction company actually does. I thought our subscribers would really appreciate this. I know we have a lot of landscapers. We have a lot of contractors. I see the different subscribers that pop up. It's, it's really exciting to see everyone taking such an interest in the channel. I've seen home inspectors, received compliments. Thank you, everybody, for your kind words.
So the designer's name is Scott Michael Cherry. He is exclusively designing for sure with landscape construction. This 3D CADD drawing helps the homeowner really understand what it is that we're trying to do for them.
This home here is in Rochester Hills, Michigan. We did a job for this homeowner their previous home.  For 10 years we took care of that landscape, modified it, added to it and we had a lot of fun. The homeowners were happy. You can see that we have an English gardens type flavor to our design. We did not charge the homeowner for this design because they're a repeat client.  But this would have been a $2,500 service provided to somebody that we had never worked for before.
The hedges are nice and straight, as you can see, got the retaining walls so the landscape isn't sliding off a cliff. That's a bad look, guys.
If you are interested in seeing more of this content on the French Drain Man Channel, give us a thumbs up. If we get a lot of likes, I'll continue to show more of what our construction company is doing. Thank you.