Landscape 3D Design Washington Twp, MI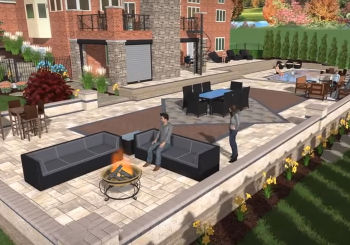 Welcome to the French Drain Man channel. We're showing you a 3D design.  This is in Washington Township, Michigan. Our construction company, Sherwood Landscape Construction, is providing all of the design and construction services for this installation.
In Washington Township, Michigan, they want you to pull a permit even for five square feet of brick pavers for your hose cart. So only a state licensed building company in a state licensed builder is allowed to do work in Washington Township. The building department is wonderful. The men and women from Washington Township, Michigan building department are just fantastic to work with.
The balcony is a part of this build. A swimming pool is a part of this build. People are always curious, what do your high-end projects go for? This one is going to probably be somewhere between $400,000 and $500,000.
This 3D design that you see, that price for this design is $5,500. Beautiful Work, beautiful work. Love it.
You can see the balcony has a fireplace on the top level as well as the bottom. Now that balcony, it does have a lot of whistles.
The 3D cad drawing allows people to really see what it is that we're trying to propose. We even can furnish it, lay it out, make sure that the areas for the outdoor living spaces are roomy enough. You can see the natural stone staircase, how it winds up to the driveway.
If you would like to see more content like this, give us a thumbs up.
Subscribe to the French Drain Man YouTube Channel.