Perimeter French Drain Around Elevated Patio in Macomb Twp., MI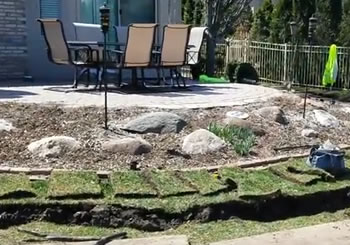 We're in Macomb Township, Michigan installing a French drain system. This is a perimeter drain it goes across the backyard to the storm drain catch basin and we're also doing the side yard where there's a high concentration of water collected in this green belt area and it's always wet.
This elevated patio, because of the amount of material to lift the patio like this and retain a patio like this, after a long day water run out of that material for days and sometimes weeks. So we're also doing a French drain around the elevated patio.
Now as a reminder, because all our videos we always preach, a really good heavy filter fabric to line the entire trench, to wrap all the stone and pipe as one. And to not use a pipe with a sock on it. You want a pipe that has a lot of so it can move a lot of water.
For a French drain system, done right the first time, give us a call at 248-505-3065 or request a FREE quote for a French drain installation.