Michigan French Drain Depth & DIY French Drain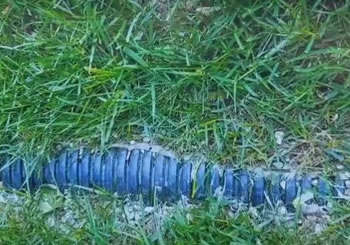 Many of the French drain systems that we install are to replace French drain systems which have failed. In Macomb County, Oakland County, St. Clair county, Lapeer county, the clay pan is really hard to get through with just a shovel and a pickax. A lot of DIYs, not through lack of effort, they get the pipe below the sod, put some stone around it, and that's just the best you can do, when limited to oil barrel, shovel, and a pick ax.
In Michigan our freeze and thaw cycles will bring the pipe to the surface, and the french drain system will fail, it will quit working. And as the picture shows here, you'll have a pipe, up at the surface not doing much for you at all.
That's why we use an excavator. We make sure that the french drain pipe is well below the turf grass so that the frost during During the Michigan winters doesn't bring the system to the surface and prevent it from working properly.
Need More Information on a DIY French Drain in Michigan?
For a French drain system done correctly in Michigan, give us a call at 248-505-3065.