Macomb Twp Storm Drain Sleeved for a French Drain System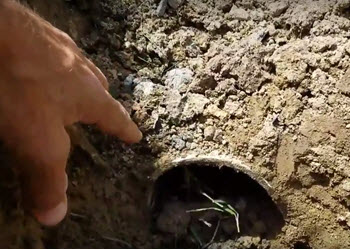 We're in Macomb Township, Michigan installing a French drain. We're getting ready to put our pipe through the sleeved storm drain basin. Normally these six-inch pipes are capped and you just saw off the cap and go through them. I don't really understand why this one didn't have a cap on it, but our French drain pipe is just going to go right through the center of that 6-inch sleeve, that's what a 6-inch sleeve looks like.
We're going to clean the dirt out so we can get our pipe in. Then we are going to take the fabric that we use to make our French drain systems and we are going to pack that fabric around our 4-inch pipe and this 6-inch sleeve.  That's because we don`t want to fill the County drain with our 6a natural stone.
For More Information on a French Drain System in Macomb Township, MI
If you're looking to have a French drain in Macomb Township built correctly, give us a call at 248-505-3065.