Macomb Twp., Michigan French Drain System to Storm Drain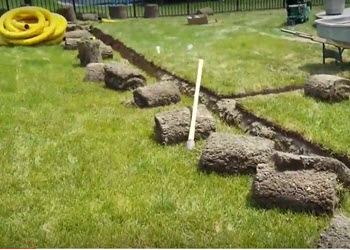 Putting in a French drain system in Macomb Township. We have a storm drain, it's already sleeved, which is great.
When you have the storm drain on your lot, you're going to have water from neighboring lots coming through as well. What we do in this case is, we have a perimeter French drain along the property line. That catches all the water that comes through from the neighboring lot.
Then we have our main French drain channel. We take the downspouts and we just run solid with a pop-up. Now, they already had the pop-ups here, initially. We're just going to run those and place them right over the French drain channel.  Not going to tie it into the main. Because we don't want the shingle, gravel, and rooftop debris.
We cut the sod out. We left two and a half inches to root. Once we're done putting in the fabric, the stone, we'll go ahead and lay the sod. Roll the sod over top of the fabric. They can fire up their sprinklers, water all they want.
For More Information on a French Drain Installed in Macomb Township, Michigan
When you're looking to have a french drain built in Macomb Twp., MI right the first time, give us a call at 248-505-3065.