Lake Orion Michigan French Drain System Around Storm Drain to Elevated Patio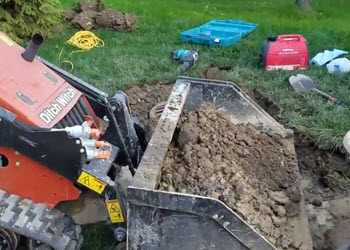 We're in Lake Orion, Michigan, installing a French drain system. The water collects around the storm drain. We're going to dig out around the storm drain and fill that full of drainage stone.
We're then going to tap the storm drain, then we're going to run a French drain up to this elevated patio.
We see this a lot. When there's an elevated patio with a bed area around it. Or there's irrigation for the plants, it's always soft and wet.
We just dug this out, and look at all the water already coming from the subsoil. Saturated basically.
So we're going to run a French drain channel off that area right there, and tie it into our main.  Our main is going to be between the berm and the patio.
Here we'll be able to catch all our runoff and divert this water straight to the storm drain.
For More Information on a French Drain System Installation in Lake Orion, Michigan
When looking for a French drain to be built right the first time in Lake Orion, Michigan, give us a call today at 248-505-3065.