Lake Orion French Drain System Before Sod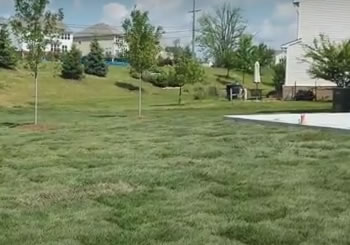 We're in Lake Orion, Michigan.We installed the French drain system yesterday. The sod is being installed today. The backyard where I stand, the sod has already been installed.
French drains are to alleviate your water problems due to circumstances that exist. We have higher ground, quite a bit higher ground, and all the water runs down to the home at which we were contracted to put a French drain in for.
There is pitch to the storm drain, but the water still laid in the swell. It would take several days for this to dry up. Well, the children love to run up and down these hills, and they have several small children and the friends that run back and forth up and down the hills. And they needed a French drain to take care of the surface water to evacuate it quickly so that it wasn't there for days and the children weren't playing in the mud.  We also dug around the storm basin itself for water laid and put some 6/8 drench stone. Also did a core and tap, we sleeved it, put a French drain system right in the storm drain.
We have a common area and there is just hundreds and thousands of gallons of water that run off of the common area down the steep hill. We also run a french strain in this swell here. It was also muddy for days after the rain. I have to applaud the homeowner for contacting us to put in the French drain before the sod. Now they're going to water their sod three times a day for the next few weeks to get the sod to knit together and take. If it wasn't for the French drain system this back yard would be holding water, it would have standing water here for the next month. And every rain event thereafter.
For More Information on a French Drain System in Lake Orion, MI
For a French drain system in Lake Orion in Michigan, give us a call at 248-505-3065