How to Install a French Drain at a New Home in Macomb Twp., MI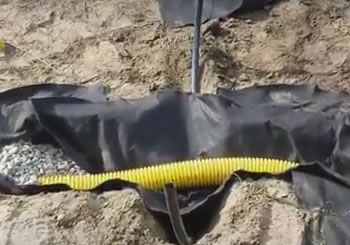 We're in Macomb Township installing a French drain system. The clay pan in Macomb Township makes it mandatory to have a French drain system so that you have a nice dry yard.  Whether you have children, pets, or you're just maintaining your yard with a lawn mower. If you don't have a French drain system, you end up with soft areas between the homes and on the back swale.
Now we had the fence company install the fence first. That way the posts do not compromise the French drain system. The other thing we also do is we prep it for irrigation. We don't want the irrigation company to compromise our sealed French drain system. This is a maintenance free French drain system, it's fully contained. So we don't want a contractor to come behind us and tear the filter fabric allowing sediment to plug the system.
As you can see in several key locations we have sprinkler pipe running underneath the French drain, so that when the irrigation company comes to pull their pipe, they don't have to tear the filter fabric and cut the pipe and compromise the system.  They can just tie in to the pipe that we have for them.
Looking for a French Drain Contractor in Macomb Twp., MI?
For French drain systems in Macomb township, done correctly, give us a call at 248-505-3065.