Have the right equipment to install a French drain in Michigan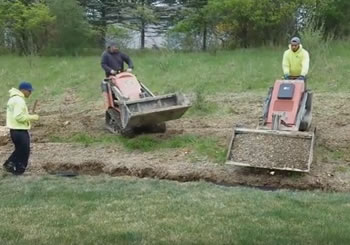 Having the right equipment to do a French drain in Michigan is really important. A lot of the areas that we put French drains in are hard to access. We have your traditional skid loaders as well as these mini skids. We're trying basically, to get the French drain installed as economically as possible. It benefits the homeowner as well as us.
We want to be competitive in the market of installing French drains, curtain drains, running down spouts. We want to be competitive in that market so, we have to have the right equipment. What's nice is when we're done and we grate everything out, we mend the turfs. You can't even tell we were here.
We put in a lot of pipe today and graded out the area. The homeowner is going to see that. We gave them a really nice grade.
There's a dry creek bed.
When you want it done the first night, give us call.
For More Information on a French Drain System in Michigan
Sherwood Landscape Construction LLC
122 S Rawles St
Romeo, MI 48065
Ph: 248-505-3065
French Drain Man
"Yard Water Solutions"
www.frenchdrainman.com