Bloomfield Hills, Michigan French Drain Installation Project
This job takes us to a French Drain Installation in Bloomfield Hills, Michigan. The homeowner is a subscriber who knows our drainage systems pretty well. He's been watching all our videos for months. Hopefully, when it's raining hard, he sits there with his phone and an umbrella, and gets us some dynamite footage of the french drain system in action.
About the Installation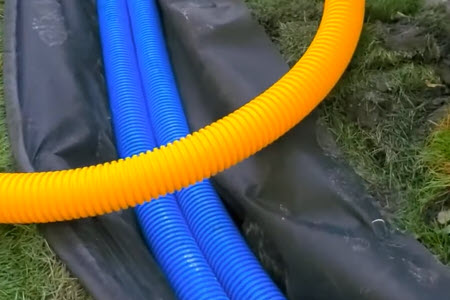 With the water coming from here we want to use all that slope to our advantage. We have a lot that slopes this way, a lot that slopes that way. We also have the water coming off of all these higher lots, and it ends up in this gentleman's yard. We run this main up to the corner. We have a few different feeders and it's going to be 300 feet of French drain.
We're running High Octane with the premium Baughman eight slot yellow, and we have a 24 inch in diameter, 48 inch deep, lift station. It's going to have a cast iron grate on it. So all the bulk water that used to sit in here, just goes right into our lift station, and we have 140 foot of discharge out to the street. It's a pretty good sized drainage system in Bloomfield Hills, MI.
Growing Grass over the French Drain
We've had a lot of questions asked about sod. You do need a sprinkler system to grow sod on our French drains during the drought season. Or, you're just got to be someone that doesn't mind running a sprinkler. Why do you think the golf courses look as good as they do? I mean, they have a hell of an irrigation system.
So this gentleman, he told us, "Look, this system, my irrigation guy just gave up on it." he told me. Just abandoned what's here. It's an old system. They're going to put a new system in back here.
So we're going to run sprinkler line. We're going to put three one inch, right there for the three mains. And then each one of these feeders, and the main, we're going to have sprinkler pipe underneath our system already. We don't want an irrigation crew to compromise our system.
We cut off all the root and we got it really nice and thick. So this will grow just fine on top of our French drain system. We're now through the drought season, it's late September. This gentleman might not even put the sprinkler system in until summer of next year.
Need a French Drain in Bloomfield Hills?
Contact French Darin Man – Michigan's leading drainage experts.
We bury downspouts, build roof runoff systems, French drain systems, yard drain systems, sump pump discharge lines. We dig ponds. We are the excavation underground drainage experts, sewer lines replaced and repaired.
Call (248) 505-3065 and schedule your appointment today.