French Drain Install Under Sidewalk – Macomb Twp., MI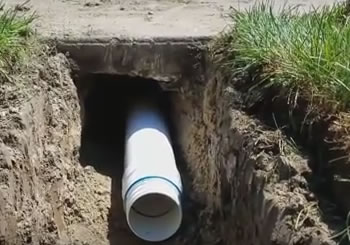 We are installing a French drain in Michigan, wanted to show you how we would take a French drain system to the curb of the front yard and go under a sidewalk.
We bore under the walk, we use a piece of schedule 40 And then we use a coupling that we glue onto that. We then glue an adapter that we snap our perforated corrugated pipe onto. On the other side of the sidewalk we already made this connection. You can see the French drain pipe is already connected.
We have a trench wrapped with filter fabric. We have the schedule 40. The coupling and you can't really see the adapter because the French drain pipe, the perforated corrugated pipe is snapped on to that.
We then run that to the curb. We don't put any of the dirt back in. We haul all that away. Do not put any of the dirt back into the trench, the system will plug, it will not work properly, it will give it a early expiration date.
For More Information on a French Drain Installed Under a Sidewalk in Macomb Twp., MI
For a French drain system done right the first time, give us a call at 248-505-3065.