Considering a DIY French Drain in Macomb Township? Hire a French Drain Pro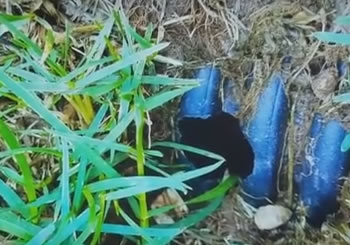 We're in Macomb Township Michigan installing a French drain system. The clay pan in Macomb Township is really hard to dig. A lot of DIY installs, a lot of handyman that are hired to put pipes in, homeowners that are typically a do it yourself-er; it's not for lack of effort, the clay pan here is really hard to dig through.  We have the right equipment.
What you see here is a picture of a pipe that the frost has lifted to the surface. The homeowner had cut a hole in it so that standing water in the yard could be at least drained out through the pipe We put our pipes at the bottom of the trench for that reason here in Michigan. The trench you see there is 14 inches deep, 14 inches wide, we have a downspout that's tied through. You can see the white 90 coming up, that'll be a pop-up emitter put on that. But there's going to be be tons and tons of six eight natural stone put on that along with a few inches of sod and dirt. That pipe will stay down during the freeze and thaw cycles, and this system will work properly. You also want the pipe at the bottom of the trench, because that's where the water lies.
For More Information on a French Drain System in Macomb Twp., MI
For a french drain system installed correctly in Macomb Township, give us a call at 248-505-3065.