A French Drain Done Right Does Not Need Inlet Drain to Take in Surface Water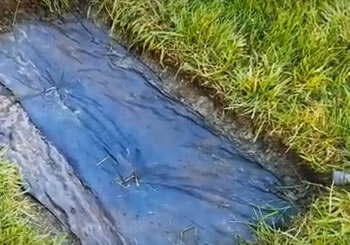 Here's a completed French Drain, with the last piece of sod yet to be put in. You can see how the channel, full of stone and pipe, is fully contained by a filter fabric. This is to prevent any contamination from ever getting into the French Drain System, and it'll never need any maintenance. It does not need surface drains. A true French Drain does not need surface inlet drains.
I had a call and it brought me out here. Somebody said their French Drain System that was just installed last year is not working. Well, the complaint is the ground is extremely saturated.
See these inlets? They installed a pipe, put a little bit of stone on it, put the dirt back in, and then they put a bunch of inlets back in so the standing water was gone. But they're not going to lower the saturation. So there are inlets through the whole system. This system runs around the whole yard. They paid a lot of money for this.
It's unfortunate when people put their trust in a contractor, and this is the kind of work they provide. You cannot lower the saturation rate in your subsoil by putting in a system that just takes in the surface water.
For a true French Drain, a real French Drain installed the right way, give us a call at 248-505-3065.