Yard Drainage Installation DIY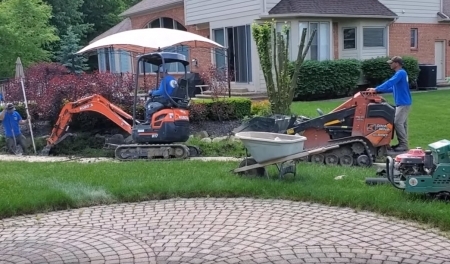 Alright, DIYers. I'm showing you this for a reason. I see in my comments a lot of you who have done some of the drain work and you're watching our videos. You mentioned that if you had to do it again, you would have rented one of these mini skid loaders or the mini-excavator and I encourage the DIY to do that. Your time is worth something. You don't want to be working on this drain all summer. You want to make sure that you go at it efficiently and safely. You don't want to be seeing the chiropractor two, three times a week. That's not very productive.
The mini excavators, probably number one, and you really don't want to be running this dirt and stone back and forth with a wheelbarrow. You get rid of the shovel and you get rid of the wheelbarrow and suddenly you're enjoying your DIY project, which is what we want.
So, I shot this video just to remind you, when you see these guys, this is a veteran crew and you don't have to own a half-million dollars in equipment to put the yard drain in. You can go to the rental store. What do you think we do when one of these machines need service? We go to the rental store. I've rented the Ditch, Witch for a week at a time, we had to have one of the engines serviced and they had the pull the engine because there was a crack in the oil pan and it was a big repair. We had a rental ditch, which you guys probably didn't even know it. It was an SK752 rental. So it's very affordable.
I encourage you to rent a mini skid loader with the mini-excavator and now it's a two-person project, a buddy or another family member. And you could take turns with the machines. You can enjoy the experience. I just, we try so hard to make this an easy DIY project and we want you to know the quickest way from A to Z and we want to make it painless. It really can be a joy to ditch, but you have to have the right equipment for it. So that's the whole message here.
Rent a sod cutter, go ahead and you want to take that sod cutter to the deepest level that it'll cut. Cut your sod off the top, come in with a mini-excavator and all this heavy soil, when you have a yard drainage problem, the is usually really heavy. Clay is a tough dig. So having a machine like this, U17 Kubota that you see Francisco swinging, that is a great machine. And these guys, they love what they do. But I'll tell you what, when we were all younger guys and we did wheelbarrow and we did pickaxe and we still loved what we did, but we sure have a lot more fun now. That's for sure.
So this equipment is now at all the rental centers. These mini skid loaders just caught fire and every rental center has to have one to stay in business and sometimes there's a wait, but I encourage you to wait for it. And again, all rental stores now have these mini skid loaders. So it used to be a very specialty type piece of equipment. And again, everybody recognized the value in it and we don't have any problems anymore. If we need to send ours out for maintenance or a repair, we can, you know, just rent one for the day or the week like I had mentioned. And the prices are pretty, I think considering what this equipment costs it to rent it, it's pretty affordable.
So DIYer, follow our blueprint and also follow the way you see us going about the installation right down to the equipment. Again, I don't want to hear, well you have all that great equipment. You know, it's available to you too. So keep that in mind. Have a lot of fun with your project. We want to try to keep the DIY wires on track and you know, value your time and consider your health too. You don't need to end up with a bad back or something over a DIY project.