Yard Drainage Problems Solved in Metamora, MI
Here's job where we fix backyard drainage problems in Metamora Michigan. The homeowner took some pictures of what happens during big rains. The back of that house had 9-10 inches of water up against the service door of the garage and the water would just go right into the garage. This was because all of the ground landscape beds, even the green belt was all higher. This was the low spot and water always finds the lowest point.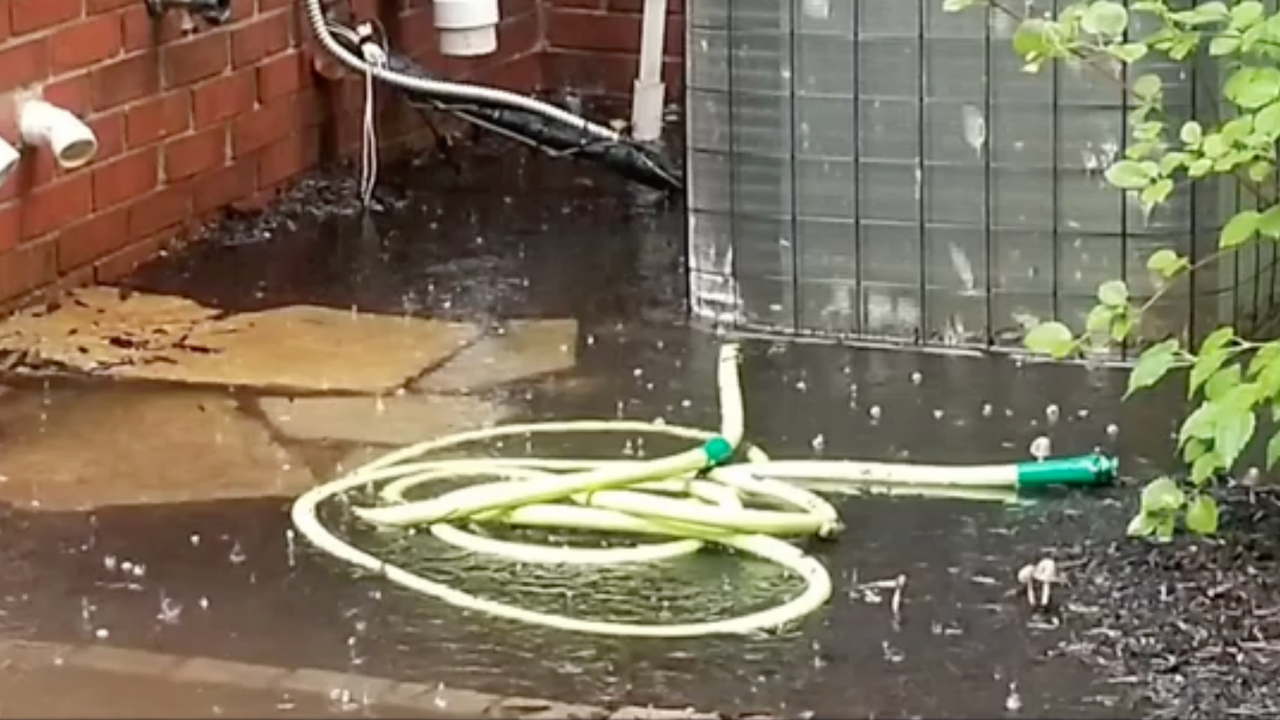 So we knew we had to grab the downspout water, grab the sump pump discharge line water and we had to capture all the surface water that's running up against the door of the garage.  We had to cut the driveway to get all this water out of here.
Meanwhile we grabbed more downspouts as we want to grab up as much water as we possibly can. Then we want to discharge this system to the front ditch so we had to find the easiest route. We're dealing with a lot of water here so we installed a six inch system. A six inch discharge line, six inch collection system and we tied in the sump pump discharge line along with the roof runoff system.  So we're going to grab up everything that's bulk water so that we reduce the amount of water that this homeowner sees. We're going to dry up the lowest point of that backyard we're just going to let the water naturally find its way to that low point.
In order to take care of the bulk water we also did a permeable walkway. We took out the brick pavers put one ton of limestone on top of decorative limestone steppers and poured inch and a half cobblestone around them.
The water is going to flow amazing in the system we're going to be able to grab that water as fast as it comes off the high ground. We get our limestone from Canada. Canada has the best limestone on the planet and we love this rock. It's dense in our Michigan winter environment of freezing and thawing.
I have to give a shout out to everybody that worked this Metamora yard drainage project. Everybody that worked this project was a true trade at what they do a true professional and this was more of an advanced drainage system. This wasn't just your cookie cutter french drain to storm drain or french drain to dry well. This really took a team of yard drainage professionals so both machine operators as well as the guys in the trench they're the very best at what they do.
Hire the Best Yard Drainage Contractors in Metamora, MI
If you live in Metamora or Northern Macomb County and you're dealing standing water, contact the yard drainage experts at French Drain Man.
For over 3 and a half decades we have been helping Michigan homeowners with their yard dewatering. We install French drains, curtain drains, yard drains, sump systems, roof runoff systems  – basically anything outdoor drainage.
Call French Drain Man: 248-505-3065