Yard Drainage Contractors Installing a French Drain to Yard Sump Pump System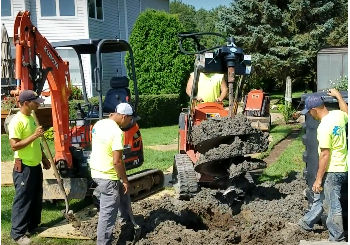 We are yard drainage contractors. We're installing a sump pump basin for a French drain system. The reason why we have to put in a sump pump, the gravity system no longer works because we have such a high water table right now in Michigan. The lakes are really high. The water tables are really high. We haven't seen water levels this high in like 30 years.
We're going to run this drainage system to the sump pump basin. We're going to lift the water up and over the wall. Now that is a base and that people use and they misuse it. It's for an indoor basin in a crawl space or basement for footer tile. When you're trying to manage yard water with that, it's going to become overwhelmed really quick. It's only a 26-gallon basin.
We are putting in this space in here, this five-foot basin. It's gonna have a huge reservoir. It's not going to become overwhelmed at all and because of its depth that will not freeze.
For yard drainage contractors in Southeast Michigan give us a call at 248-505-3065.